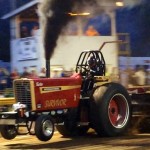 MONDAY, JULY 3RD, 2017
Pedal Tractor Pull –  Dairy/Lamb Arena – registration starts at 1:00  — PULL at 1:30
JR FAIR NIGHT – 5PM IN THE ENTERTAINMENT TENT
Motocross at the Grandstands starting at  7:00P.M
TUESDAY, JULY 4TH, 2017
OFF ROAD RACING  –  7 PM
@GRANDSTANDS
Roger Hoard – Dan Jones – Ron Retzer – Mark Statler – Joanna Jones &1170 BAND performing in the Midway Tent  6 PM   –  sponsored by Milleson Insurance
WEDNESDAY, JULY 5TH, 2017
 Demolition Derby at the Grandstands starting at 7:00 P.M. 
THURSDAY JULY 6TH, 2071
Mud Bog at the Grandstands starting at 7:00 P. M.
FRIDAY – JULY 7TH
Livestock Sale starts at 1pm . . small animals first
Truck & Tractor Pull starting at 7pm at the grandstands
Classes: 6500 V8 Hot Rod Tractor
6350 Modified 4×4 Truck
10,600 Classic Pro Farm
6500 Open Street Gas Trucks
SATURDAY JULY 8TH
 Library Day  11AM – 1PM SPONSORED BY PUSKARICH LIBRARY and HUNTINGTON BANK

PEE WEE SHOW –  3PM IN THE SHOW ARENA
FARM STOCK PULL AND LIL HUSTLERS PULL 10AM AT GRANDSTANDS
 Jeff Roscoe Chainsaw Carver 2-5pm
Square Dance in the show arena 8:30 – 11:30 p.m.
Truck and Tractor Pull at the Grandstands starting at  7:00 P.M.
***PEDAL TRACTOR PULL***
MONDAY, JULY 3RD
Registration starts at 1 pm.   Pull at 1:30PM
Back by Popular Demand – ADULT "FUN" CLASS FOLLOWING YOUTH PULL
SPONSORED BY: TOLAND TRUCKING, INC, HESS CORPORATION
RULES:
Children age 4-12 may participate – no entry fee
Competitors will enter the division that they are the day of the pull
Rules
Contact or view the rules in the Harrison County Fairbook.